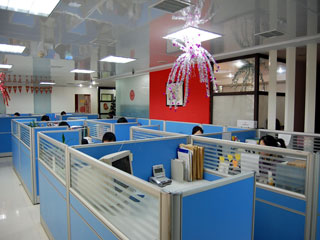 Luoyang Hong Feng Refractories And Abrasives Co., Ltd. (HRAC) was built in 2000, and almost at the same time, our corporation also began to enter into the manufacture field and continuously invested in artificial corundum and silicon carbide factories. We have developed into a leading manufacturing-trading complex enterprise. Now HRAC owns one sharing bauxite mine, one full investment artificial corundum size processing plant, one artificial corundum smelting plant with five bauxite calcine kilns, one silicon carbide smelting plant and 2 sharing refractory material plants. Those plants can produce many kinds of abrasive products and refractory products, such as brown fused alumina, white fused alumina, silicon carbide, and stainless steel fiber.
HRAC is the council member of Artificial Corundum Association of CCCMC and the member of China Abrasives Association. Now HRAC can produce and export more than 35000 metric tons of Brown Fused Aluminium, White Aluminium Oxide, Silicon Carbide and other abrasives and refractory materials and products annually.
Our quality control system is in line with the requirement of ISO9001 quality control system. The quality of products is not only high, but also stable. HRAC can always satisfy the customers' needs.
Our business scope includes abrasives and refractory, such as brown Fused Alumina, White Fused Alumina and Silicon Carbide grains for abrasive industry and refractory industry, Synthetic Diamond and related products, Grinding wheels and tools, refractory materials and additive materials.
HRAC products have been accepted by many famous Abrasive and Refractory users all over the world. Our main markets include Japan, Korea, India, South Africa, Mexico, the USA, Europe and Taiwan area.
HRAC is professional, so HRAC is your best choice! ...